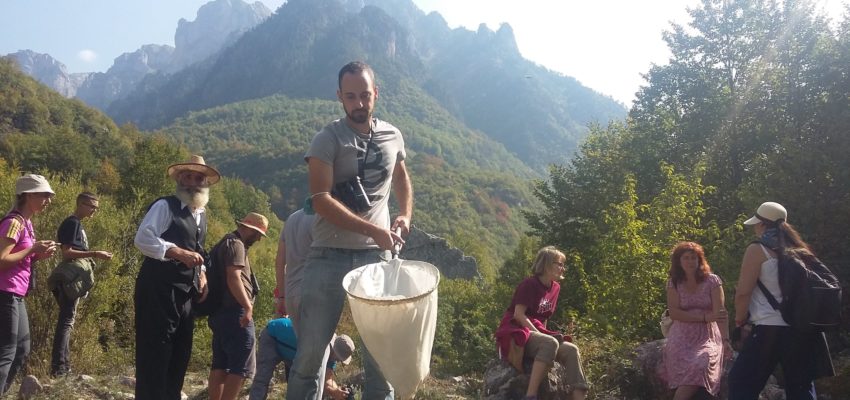 🇦🇱 [Albania] 🐟 Valbona BioBlitz – Rosemary
Guest post by Rose Greenfield. Perangua has been supporting the campaign to protect the Valbona Valley for a long time. You can also join the campaign like Rose did.
[Artikulli në Shqip më poshtë]
Hello, my name is Rose, and I cycle all over Europe volunteering on different permaculture initiatives, eco projects, and environmental projects. This month I am volunteering at TOKA, a Non-Governmental Organization set up to try and stop hydroelectric dams from destroying the Valbona National Park in Albania. To be honest, at the beginning, I didn't know what a 'BioBlitz' was, and it took me a little bit of time to figure out what it meant for this region and for the impact it could have on preserving the rivers under threat here.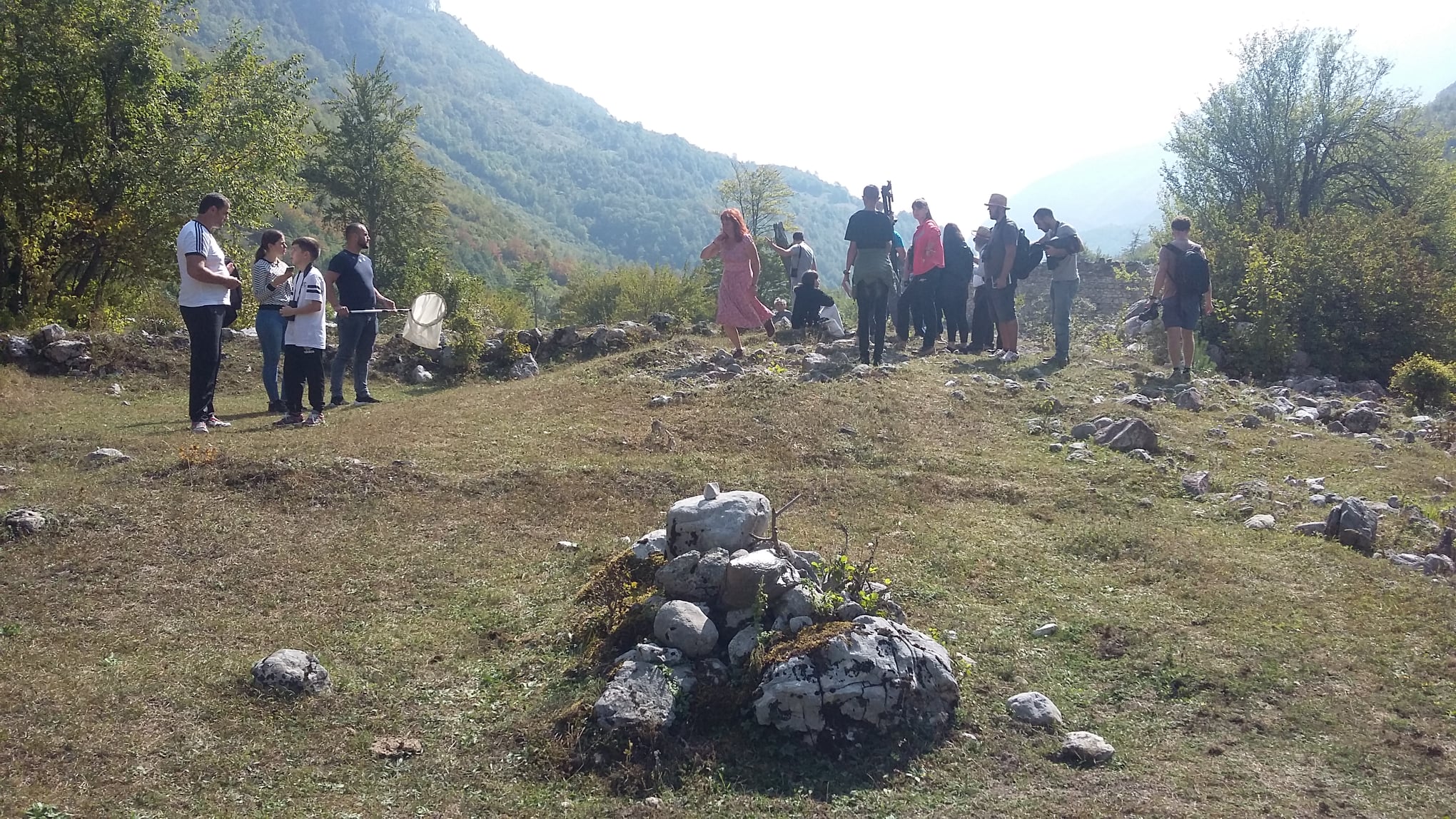 First I will explain to you a little bit about the history of the 'BioBlitz'. It was conceived by world renowned entomologist (a person who studies insects), Edward O. Wilson. It is part scientific endeavor, part community gathering, and part educational event. A BioBlitz takes a snapshot of the biodiversity of a specific geographic area, counting how many different species can be found rather than the size of specific species populations.  
On this occasion, the Valbona River BioBlitz was also rare opportunity for the local community to engage with scientists, educators, volunteers, and naturalists; as part of a world-wide scientific endeavor to gather and catalog as many insects and reptiles, plants and pollinators, mammals, and fish via an mobile phone app called iNaturalist.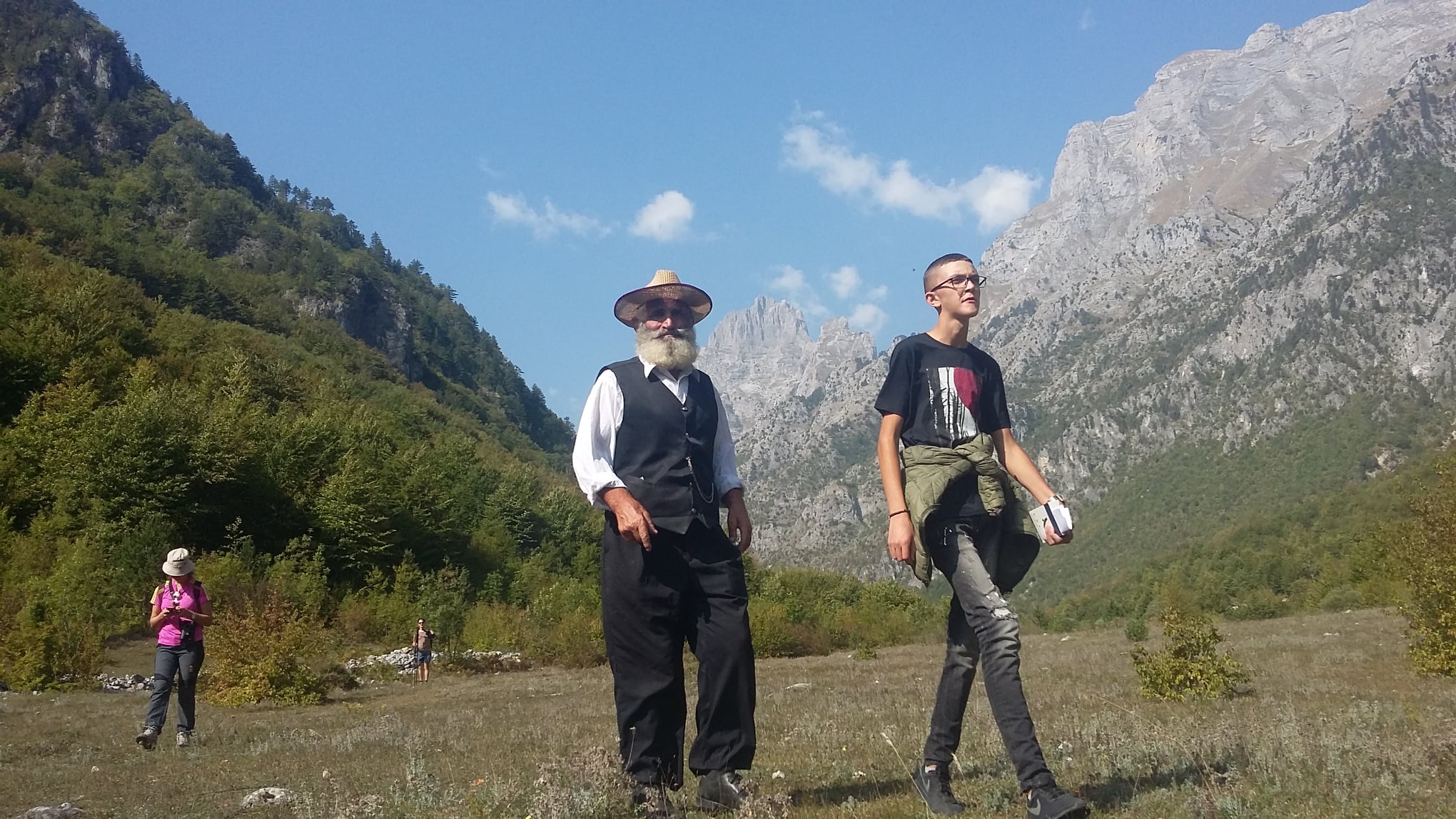 By hosting a BioBlitz, TOKA was aiming to demonstrate the Tropojë region and Valbona National Park as an important habitat and present it as an area of strong scientific significance and beautiful wilderness. This was in the hopes of halting human encroachment on the area and to bring to light the important nature which will be damaged further by continuous plans for hydroelectric power plants in the National Park. 
This digital "citizen science" is very new to the rural peoples who live in or near the Valbona National Park, so it was a challenge to explain how to use the iNaturalist app and to make a connection between nature and the concept of apps or even capturing digital data. When a person or community is so immersed in their landscape it can be hard to conceive of the importance that their home has in the wider context of 'the world'.  I have been trying to live a more meaningful life which includes less use of social media and more time in my environment so I can greatly understand the disconnect between using a mobile phone within a natural setting. If your home is placed in an area of outstanding beauty then you are innately intimately connected with it, it must be strange to go around clinically documenting everything!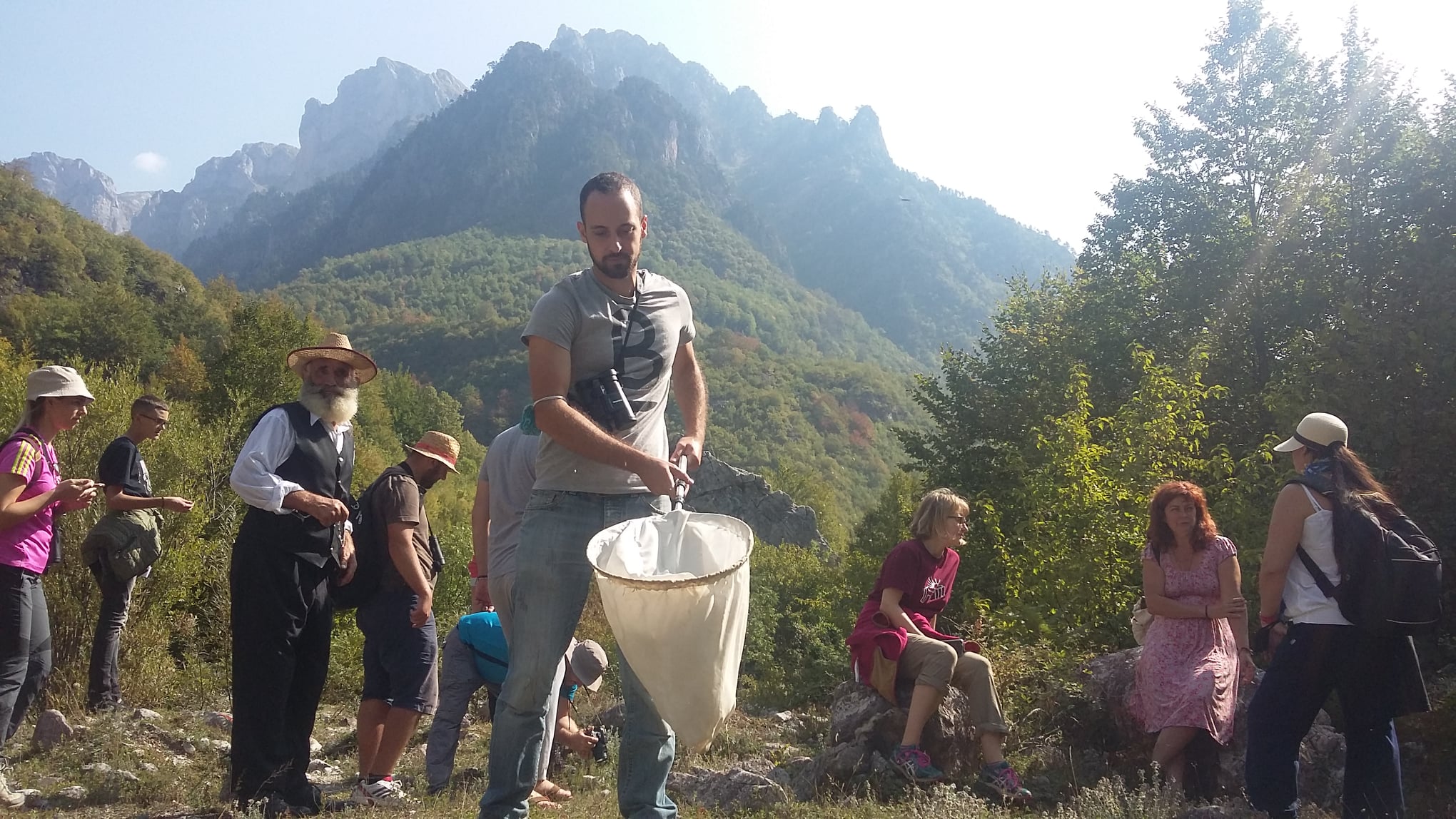 As for my experience, my first ever BioBlitz, was really amazing. I loved how these diverse people, languages, and cultures came together to experience nature. People who had never been to the Valbona River before, young people, film makers, biologists, drone drivers, traditional mountain men who had lived in the area for generations, and transient people like me who don't live in any one place. All of us together for one cause: to experience beauty and to help stop industries from destroying that beauty.  
By the end of the day we had collected over 40 biodiversity samples and logged them into the iNaturalist app. We had eaten delicious traditional food in an epic location, we had made countless friends and connections, experienced a place which had changed dramatically in the last decades (Albania only opened up to the outside world after the death of Enver Hoxha) and is under threat to change again in the next decades. We had experienced a unique moment in time and that moment is deathless.  
Some useful websites: 
To learn more about the iNaturalist app – click here
To host your own BioBlitz – Click here and here
To learn more about the work TOKA is doing in Valbona – click here
To follow my journey – click here
*Shqip*
Përshëndetje, emri im është Rose, dhe unë cikloj në të gjithë Evropën vullnetarisht në iniciativa të ndryshme permakulture, projekte eko dhe projekte mjedisore. Këtë muaj unë jam vullnetar në TOKA, një Organizatë Jo-Qeveritare e ngritur për të provuar dhe ndaluar digat hidroelektrike të shkatërrojnë Parkun Kombëtar të Valbonës në Shqipëri. Të them të drejtën, në fillim, nuk e dija se çfarë ishte një 'BioBlitz' dhe më duhej pak kohë për të kuptuar se çfarë do të thoshte për këtë rajon dhe për ndikimin që mund të kishte në ruajtjen e lumenjve nën kërcënim këtu.
Së pari do t'ju shpjegoj pak për historinë e 'BioBlitz'. Ajo u konceptua nga entomologu (studiues insektesh) i njohur botërisht, Edward O. Wilson. Kjo është një pjesë përpjekje shkencore, një pjesë mbledhje e komunitetit, dhe një pjesë ngjarje edukative. Një BioBlitz merr një pamje të biodiversitetit të një zone specifike gjeografike, duke numëruar sa specie të ndryshme mund të gjenden më shumë sesa madhësinë e popullatave specifike.
Me këtë rast, BioBlitz – Lumi Valbona ishte gjithashtu një mundësi e rrallë për komunitetin lokal për t'u angazhuar me shkencëtarë, edukatorë, vullnetarë dhe natyralistë; si pjesë e një përpjekjeje shkencore në të gjithë botën për të mbledhur dhe kataloguar sa më shumë insekte dhe zvarranikë, bimë dhe polenizues, gjitarë dhe peshq përmes një aplikacioni të telefonit celular të quajtur iNaturalist.
Duke iniciuar një BioBlitz, TOKA synonte të demonstronte rajonin e Tropojës dhe Parkun Kombëtar të Valbonës si një habitat të rëndësishëm dhe ta paraqiste atë si një zonë me rëndësi të fortë shkencore dhe një natyrë të egër të bukur. Kjo ishte me shpresën për të ndaluar cënimin njerëzor në zonë dhe për të nxjerrë në dritë natyrën e rëndësishme e cila do të dëmtohet më tej nga planet e vazhdueshme për hidrocentralet në Parkun Kombëtar.
Kjo "shkencë qytetare" dixhitale është shumë e re për njerëzit rural që jetojnë në ose pranë Parkut Kombëtar Valbona, kështu që ishte një sfidë për të shpjeguar se si të përdorin aplikacionin iNaturalist dhe për të bërë një lidhje midis natyrës dhe konceptit të aplikacioneve apo edhe kapjen e të dhënave dixhitale. Kur një person apo komunitet është zhytur kaq shumë në peisazhin e tij, mund të jetë e vështirë të konceptohet rëndësia që shtëpia e tij ka në kontekstin më të gjerë të 'botës'. Unë kam qenë duke u përpjekur të bëj një jetë më kuptimplotë, e cila përfshin më pak përdorim të mediave sociale dhe më shumë kohë në mjedisin tim, kështu që mund të kuptoj shumë shkëputjen midis përdorimit të një telefoni celular brenda një ambienti natyror. Nëse shtëpia juaj është vendosur në një zonë me bukuri të jashtëzakonshme, atëherë ju jeni të lidhur ngushtë me të, duhet të jetë e çuditshme klinikisht të dokumentoni gjithçka!
Sa për përvojën time, BioBlitz im i parë ndonjëherë ishte me të vërtetë mahnitës. Më pëlqente sesi këta njerëz, gjuhë dhe kultura të larmishme u bashkuan për të përjetuar natyrën. Njerëz që nuk kishin qenë kurrë më parë në lumin Valbona, të rinj, krijues filmash, biologë, shoferë dronësh, burra malorë tradicionalë që kishin jetuar në zonë për breza të tërë, dhe njerëz kalimtarë si unë që nuk jetojnë në asnjë vend. Të gjithë ne së bashku për një kauzë: të provojmë bukurinë dhe të ndihmojmë që industritë të mos shkatërrojnë atë bukuri.
Deri në fund të ditës ne kishim mbledhur mbi 40 mostra të biodiversitetit dhe i regjistruam ato në aplikacionin iNaturalist. Kishim ngrënë ushqime të shijshme tradicionale, kishim bërë miq dhe lidhje të panumërta, kishim përjetuar një vend i cili kishte ndryshuar në mënyrë dramatike në dekadat e fundit (Shqipëria u hap vetëm për botën e jashtme pas vdekjes së Enver Hoxhës) dhe është nën kërcënim për të ndryshuar përsëri në dekadat e ardhshme. Ne kishim përjetuar një moment unik në kohë dhe ai moment është i pavdekshëm.
Webfaqe të dobishme:
Aplikacioni iNaturalist, klikoni këtu
Për të organizuar BioBlitzin tuaj, klikoni këtu dhe këtu
Që të ndiqni punën e bërë nga TOKA në Shqipëri, klikoni këtu
Për të ndjekur udhëtimin tim, klikoni këtu