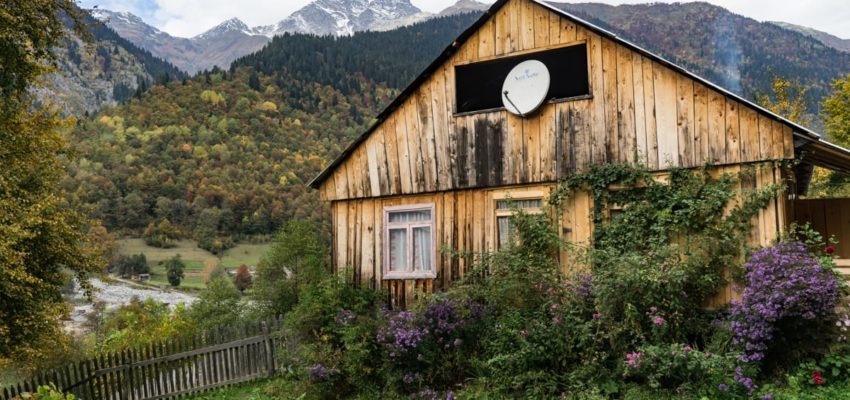 Georgia: Support local communities taking a dirt road
Sleeping in a guesthouse is not enough to support local communities in the region of Svaneti, Georgia. You'll need to be a really adventurous traveler if you want to make a change in a region threatened by unsustainable tourism and hydropower projects. Svaneti has been changing rapidly since it was connected to the rest of the world with an asphalt road a decade ago – more visitors, more hotels, more restaurants, more fast-food stalls. The region has definitely become famous in Georgia by its architecture, its nature, its music and its traditional hats. Locals are proud, visitors are satisfied.
However, a lack of strategy and coordination have led to an over-concentration of tourism in villages between Mestia, the capital city, and Ushguli. "Not only Ushguli and Mestia are interesting; every village is interesting with its natural conditions, colourful landscapes, nature", explains Inga Goshuani, a farmer from Etseri- "Though, I think, it's necessary to introduce this place to more people."
As many other locals in Svaneti, Inga is worried about Svans migrating to the lower lands: "I don't want Svaneti to become empty, many people are leaving their houses and I wish they return to them again", says one of the workers on the maintenance of the road, Zviadi Chkadua. There are many other villages in Svaneti that are not benefiting from tourism and they lack opportunities for small business development. "People need to be given some little amount of grants (about 5.000 GEL) from the government to be more stimulated, but the government doesn't want to.", explains a carpenter from Lengeri, Shalva Guledani. Indeed artists and artisans need support, farmers need more and better markets but most of the government promises are worth nothing. "The government has made only a few steps in Svaneti to stop the decreasing of the population", explains Tinico, the doctor of Becho and Mazeri. Tinico believes that there is another reason for Svans to leave the region: big dams for hydropower energy. "Perhaps, it would be better if micro dams were built on local rivers. It wouldn't cause the flooding of big territories.Thus, Svaneti will develop, people will stay here and nature will be still as beautiful as it is now".
According to
Bankwatch
reports there are more than 35 hydropower plants planned for the region. Companies such as Nenskra Hydro offer up to three years employment for locals. This option will not provide a long-term solution to the problem. There are a lot of initiatives that were born to promote people, nature, and culture of Svaneti. @Svan travel @Transcaucassiantrail @WeareSvanetiFestival… But is there something we could do as individuals? As travelers? As tourists? Five tips to help local communities:
Don't be afraid of adventures. Places without guest houses are not a problem, Svans will never leave you without food or accommodation. By making remote places popular, you will support the effort of locals to develop tourism as an alternative.
Hike on one of the dirt roads. If there are cars passing by they will always stop out of curiosity. It's one of the best ways to get in contact with people and understand their needs, problems, and expectations.
Get to a village and ask where Svans go to the mountain. You will witness wild nature, unexplored lakes, and unspoiled forests. Share your photos and videos to show what needs to be preserved.
Eat trouts from a river that could be lost. Most probably if locals see you they will help you make a fire to cook them. Talk with them about the importance of the river for them and they will probably tell you about their concerns with Khudoni, Nenskra, and other dams