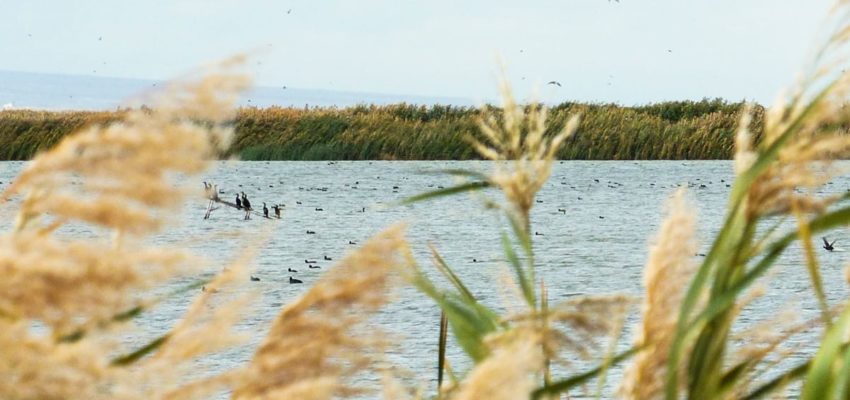 Armenia: Armash Fishponds
Have you ever come up with a bright idea while travelling? A simple idea that could contribute to the local community or to the protection of a remote place? This is how we felt when visiting the fishponds next to the villages of Armash, Surenavan and Yeraskh in Armenia. A bus stop in the middle of nowhere, a chat with the fishmonger, a fish meal at the local restaurant, a visit to the fish harvesting, a trek through the fishponds. And amazingly it was not all about fish. A more valuable source of income has been totally underestimated – birdwatching tourism. In just a few hours we saw the most amazing variety of rare birds – marbled teals, ferruginous ducks, greater flamingos, pygmy cormorants, Armenian gulls, herons, storks, waders… And not a single birdwatcher, nor visitor facilities, nor places to stay.
Georgi, one of the fish producers from Armash, understands this value: "Armash fishponds are a resting place for the birds after crossing the Caucasus Mountains". He would like to do something about it but doesn't know how "Since communism, our business has been progressively decreasing. We used to have more workers and more fish."
We were witnesses of how the traditional family-owned fisheries had created a bird paradise. Huge pools are filled with different levels of water in spring, allowing different species of birds to breed. In summer birds have the peace they need to grow their chicks. In autumn the pools are drained to harvest the fish and mudflats offered great habitat for migrating birds. Warm artesian streams create favourable conditions for wintering birds.
But a slight change in the economic situation could very quickly destroy this man-fish-bird equilibrium.  Here came out the idea. The idea to ensure the sustainable use the Armash fishponds would include biodiversity studies, declaring a managed protected area, teaching local guides, working with local school children, developing a special label for sustainable fish products, finding better markets for fish, constructing visitors infrastructure.
A week later we met in Yerevan the Foundation for the Preservation of Wildlife and Cultural Assets (FPWC) that had similar ideas, but a lack of time, resources and funding had not allowed them to go forward. With Perangua we want to change that.
The idea of Perangua is to give voice to good ideas and connect like-minded people to carry them on.
Don't lose your bright ideas – publish them through Perangua.