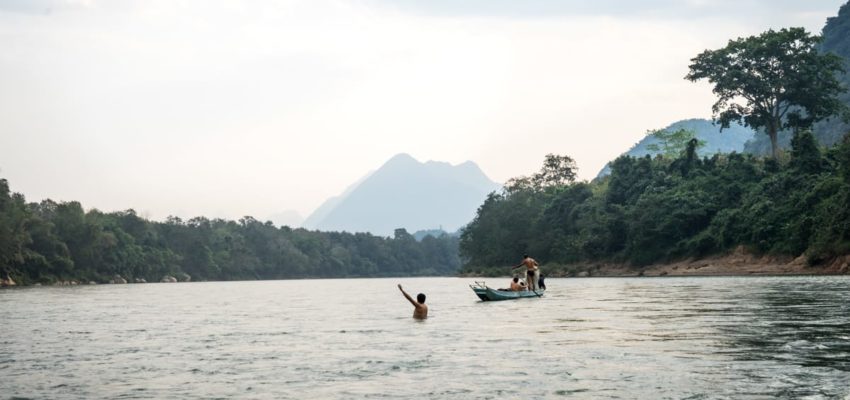 Laos: Perangua travelers don't disconnect but connect
The massive influx of tourists seeking disconnection through relaxation, comfort and holiday packages, has caused the
homogenization and degradation of many destinations
. In authoritarian or semi-authoritarian countries this disconnection is also fomented by local governments, keeping tourists away from the social and environmental problems local communities face. Tourists are expected to stay on the routes of mass tourism and holiday attractions. Such is the case of Laos.
In Laos standardized tours with boat trips, waterfalls and golden stupas keep the tourist away from environmental and social conflicts that matter. 
Just 30 km to the north of Luang Prabang, the
"the world's most relaxing destination",
a huge problem is hidden – the destruction of the Nam Ou River.
Nam Ou River
Born in the mountains of Northern Laos this river makes a 448 kilometres route through pristine mountains, forested valleys and stunning limestone cliffs that are threatened by 7 large dams. Until recent years it was possible to travel by boat along the whole river. Now, these hydropower projects are under construction, blocking the movement of tourists, indigenous people and wildlife and flooding 400 square kilometres of unexplored nature. In November 2017 construction of
Nam Ou 3 Dam
already made impossible to travel between Nong Khiaw and Muang Khua, the most beautiful river stretch visited by 25 to 100 people daily.
And what to do now?
According to Anna Pollock founder of
Conscious Travel
change will need to occur at the grassroots level, one destination at a time.
From supporting the local economies to travel only to ethical destination there are
many other practices
recommended to minimize the impacts of tourism.
In Perangua we believe that a network of activists and conscious travellers can make a change in every remote place of the world.
Join us!
Travel to the Nam Ou River and share photos and videos through the
Perangua Network
, participating in the monitoring of the environmental changes during the years. Interact with the local communities along the river and help them deal with the impacts of the dams. Get in touch with local activists and offer your expertise to them. This will probably not stop Nam Ou 3 Dam, but will add-up knowledge to support the fight to protect the rivers of Southeast Asia.